French Orthophoto Mosaic
From Wiki-WindPRO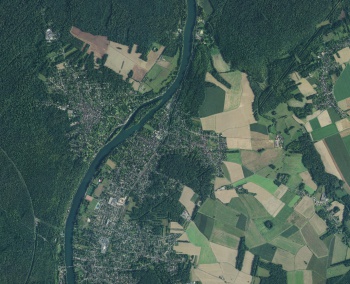 Introduction
The French Orthophoto Mosaic is a part of the dynamic, zoomable maps in windPRO. The orthophotos were released by the Institut National de l'Information Geographique et Forestiére (IGN) as a part of their BD Ortho datasets. In order to cover the entire France - they come from multiple annual campaigns. The mosaic in windPRO is based on data acessed in medio 2019 - with the BD Ortho 5m data as its source. Pixel size is 5m. Coverage is all departments in metropolitan France - with images from years 2018-2012. Parts of the following overseas territories are also included in this dataset: Guadeloupe, Martinique, Guyane, La Réunion, Saint-Pierre-et-Miquelon, Mayotte, Saint-Barthélemy, Saint-Martin and Wallis-et-Fortuna.
Higher resolution orthophotos can be purchased directly from the IGN.
Usage Notes
The mosaic was created from available data sources accessed in May-July 2019 - with the most recent imagery being used to create the mosaic
For metropolitan France - the mosaic holds data from 2018-2012 and for the overseas territories - the mosaic holds data from 2017-2004
For some overseas territories - only parts are available
Availability from within windPRO
From map window: Click the 'Add map' globe-icon -> then 'Dynamic Maps'.
From main menu: Click 'Project' -> 'Properties' -> 'Background Maps' -> 'Dynamic Maps'
License and Attribution
The map is distributed based on sources that belongs to the open data of the IGN of France. Open data by IGN is licensed under the French License Ouverte / Open License – a license used for open data from the State of France. The license is designed to be compatible to be compatible with Creative Commons Licenses, Open Government License (UK) and the Open Data Commons Attribution License read pdf here. It is required that the source of information is mentioned when using these data, so please use the following attribution when using this dataset in reports or publications:
Contains orthophotos from the Institut National de l'Information Geographique et Forestiére (IGN) - 2019. Data-processing and distribution by EMD and windPRO.
Acknowledgement
The French public and the state of France (with IGN as its representative) are thanked for producing these orthophotos and disseminating them with an open-data licence - and thus aiding the development of renewable energy – and wind energy in particular.
Integration of this dataset into EMD services - was co-supported through the InnoWind project (www.innowind.dk) - which is co-funded by the Danish Innovation Fund
External Links