Belgium-Flemish Elevation Models
Jump to navigation
Jump to search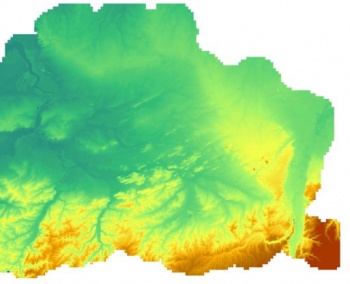 Introduction
The Belgium/Flanders 5m and 25m elevation models (Digitaal Hoogtemodel Vlaanderen II) are digital terrain models (DTM) produced by the Agency of Geographical Information Flanders (Agentschap voor Geografische Informatie Vlaanderen). The elevation data with windPRO is in either 5m x 5m grid or a 25m x 25m grid - and have a spatial coverage for the whole of the Flanders region. The DTM models were produced by LIDAR surveys in years 2013-2015 with 16 scanning points per square meter.
Dataset Overview
Spatial Coverage: Belgium - Flanders/Flemish Region
Resolution: 5m and 25m in windPRO
Data-type: Digital Terrain Model (DTM)
Coordinate system (horizontal): Belgian Lambert 1972 (EPSG 31370) in source data
Coordinate system (vertical): Second General Levelling (TAW, EPSG: 5710)
Version: Data status as of february 2019
Horizontal Accuracy: 0.10m (in original 1m data)
Vertical Accuracy: 0.05m (in original 1m data)
Availability from within WindPRO
The data are available directly from within windPRO in 5m and 25-meter resolution. The data can be accessed from the online-services in the following objects:
Line Object (with purpose to height contour lines)
Elevation Grid Object
Usage Notes
Please consider the following, when using the data as contour-lines in windPRO:
You may need to digitize the coastline (0m - contour) - as the grid-cells in the sea/ocean may be attributed with a 'no-data' value
License and Attribution
The product belongs to the open data of the Region of Flanders. These open data are licensed under a national open license (Gratis open data licentie Vlaanderen) - see HERE. This license is compatible with other open licenses that contain a name listing as a condition, such as the English Open Government License, the French License Ouverte, the Creative Commons Attribution License 3.0 or the Open Data Commons Attribution License 1.0.
Please accept the license and use the following attribution when using this dataset:
Contains elevation data from the Agency of Geographical Information Flanders (Agentschap voor Geografische Informatie Vlaanderen).
Digital Height Model Flanders 2013-2015. Distribution through EMD and windPRO.

Acknowledgement
The Agency of Geographical Information Flanders (Agentschap voor Geografische Informatie Vlaanderen) are thanked for producing this digital elevation dataset – and disseminating it in the public domain and thus for aiding the development of renewable energy.
Integration of this dataset into EMD services was co-supported through the InnoWind project (www.innowind.dk) which is co-funded by the Danish Innovation Fund
External Links