Difference between revisions of "Danish Orthophoto Mosaic"
From Wiki-WindPRO
---
Revision as of 15:24, 20 March 2019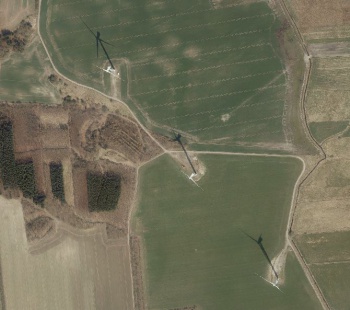 Introduction
The Danish Orthophoto Mosaic is a part of the dynamic, zoomable maps in windPRO. The orthophotos were released by the Danich Geodata Agency and – in order to cover the entire Denmark - they come from multiple annual campaigns. Update frequency for the orthophotos is every year. The mosaic in windPRO is based on the most recent data available. Pixel size is ~0.50m.
Usage Notes
The mosaic was created from available data sources accessed in Match 2019
The most recent imagery is used to create the mosaic
Availability from within windPRO
From map window: Click the 'Add map' globe-icon -> then 'Dynamic Maps'.
From main menu: Click 'Project' -> 'Properties' -> 'Background Maps' -> 'Dynamic Maps'
License and Attribution
Contains data from the Danish Geodata Agency, Danish Springtime Orthophotos, 2019
Acknowledgement
The Danish Geodata Agency are thanked for producing this digital dataset – and disseminating it in the public domain and thus for aiding the development of renewable energy.
Integration of this dataset into EMD services - was co-supported through the InnoWind project (www.innowind.dk) - which is co-funded by the Danish Innovation Fund