Difference between revisions of "Italy-Tuscany Elevation Model"
From Wiki-WindPRO
 

Line 1:
Line 1:
−

This page will hold the description of the Italy/Tuscany elevation model.

+
 
+

the

 
+

 

 
+

 

 
+
 
+

Italy/Tuscany elevation model

 
+

 

 
+
 
+
 
+

 

 
+
 
+
 
+
 
+
 
+

 

 
+
 
+
 
+
 
+

 

 
+
 
+
 
+

 

 
+
 
+

 

 
+
 
+
 
+
 
+

 

 
+
 
+

 

 
+
 
+

.
---
Revision as of 08:19, 3 June 2019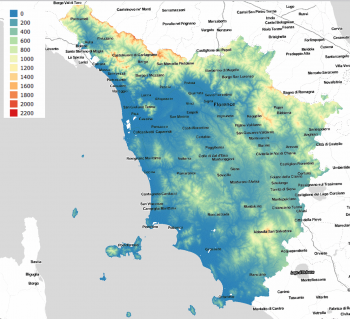 Introduction
The Italy/Tuscany 10m elevation model is a digital terrain model produced by the Tuscany Region through its Direzione Generale Governo del Territorio. The elevation data is in a 10m x 10m grid and have a spatial coverage for the whole of Tuscany. The model was produced from base maps in scale 1:10000 in years 1993-1998.
Usage Notes
Higher resolution data exists for selected areas in the region based on more recent LiDAR surveys: These 1m and 2 m gridded data may be accessed directly from the geodata-portal of Tuscany: http://www502.regione.toscana.it/geoscopio/cartoteca.html
Availability from within windPRO
The data are available directly from within windPRO in 10-meter resolution. The data can be accessed from the online-services in the following objects:
Line Object (with purpose to height contour lines)
Elevation Grid Object
Reference System
The following reference systems were used in the original data:
Gauss-Boaga Fuso Ovest (EPSG:3003)
License and Attribution
The product belongs to the open data of the region of Tuscany. The data are license under a under a Creative Commons Attribution 4.0 International License. Please use the following attribution when using this dataset:
Contains elevation data from the Region of Tuscany 05/2019. Distribution through EMD and windPRO.
Acknowledgements
The Region of Tuscany and its Direzione Generale Governo del Territorio are thanked for producing this digital elevation dataset – and disseminating it in the public domain and thus for aiding the development of renewable energy.
Integration of this dataset into EMD services - was co-supported through the InnoWind project (www.innowind.dk) - which is co-funded by the Danish Innovation Fund
External Links