Difference between revisions of "Slovenia Elevation Model"
From Wiki-WindPRO
 

Line 1:
Line 1:
−

This page will hold a description of the Slovenian Elevation Model - 5m grid.

+
 
+
 
+
 
+
 
+
 
+

 

 
+
 
+

 

 
+

This a

 
+

 

 
+
 
+
 
+
 
+
 
+

 

 
+

 

 
+
 
+
 
+
 
+

 

 
+

 

 
+
 
+
 
+
 
+

 

 
+
 
+
 
+
 
+

 

 
+
 
+

description of the Slovenian

 
+

-

 
+
 
+

.
---
Revision as of 12:43, 14 February 2019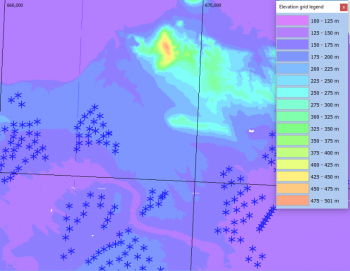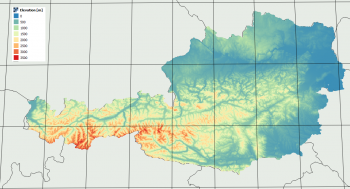 Introduction
The Slovenian elevation model is a digital terrain model (DTM) produced from LIDAR data sourced from the Agencija RS za okolje - the Slovenian Environment Agency and the Ministry of Environment and Spatial Planning. The derived elevation model delivered with windPRO is at 5m resolution. Coverage is the whole of the Republic of Slovenia.
The original Slovenian DTM model is at 1m resolution, however, the windPRO version is resampled by EMD to obtain a slightly coarser resolution (5 m) in order for the data to be operational for the larger areas needed in the context of wind farm analysis'. Resampling was made by an inverse distance weighting algorithm.
In the dataset-documentation - vertical accuracy in the 1m resolution dataset is stated to be 0.07-0.11m (RMS). This was based on a sample with about 60 ground control points.
Availability from within WindPRO
The data are available directly from within windPRO in 5-meter grid resolution. The data can be accessed from the online-services in the following objects:
Line Object (with purpose to height contour lines)
Elevation Grid Object
Reference System
The following reference system were used in the original data:
License and Attribution
The product is in the public domain with free access. However, please acknowledge the source of information and use a proper attribution when using this dataset, such as: Contains modified elevation data from Agencija RS za okolje. Adapted and distributed by EMD and windPRO.
Acknowledgement
The Agencija RS za okolje are thanked for producing this digital elevation dataset – and disseminating it in the public domain and thus for aiding the development of renewable energy.
Integration of this dataset into EMD services - was co-supported through the InnoWind project (www.innowind.dk) - which is co-funded by the Danish Innovation Fund
External Links
Site with description of the Slovenian elevation model:
InnoWind project: