Swedish Elevation Model
Jump to navigation
Jump to search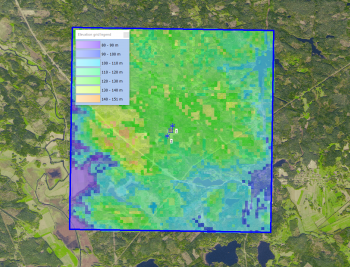 Introduction
The GSD Elevation Data for Sweden. The dataset consists of a 50 meter grid. The national elevation model was produced during 2009-2017 using airborne laser scanning. A grid with 1 m resolution is produced by linear interpolation in a TIN (Triangulated Irregular Network), constructed from laser points representing ground and water. Grid 50+ is based on this data set. A 5 m grid is interpolated from the 1 m grid, then 10 m from 5 m, 20 m from 10 m, and finally 50 m from 20 m. Bilinear interpolation is used for this interpolation. This chain of interpolations means that every height value is representative for a larger area than if the 50 m grid was produced by selecting heights directly from the 1 m grid.
Dataset Overview
Spatial Coverage: Sweden nationwide coverage
Resolution: 50 m grid
Data-type: Digital Terrain Model (DTM)
Coordinate system: SWEREF 99 TM (EPSG:3006) in original data
Version: Data downloaded in 2018.
Vertical Accuracy: N/A
Usage Notes
GSD-Elevation data, grid 50+ is nationwide. However, the production of a new Swedish national elevation model is not yet complete. The grid data from Lantmäteriet is updated once a year as as the productions continues. Production of the national elevation model can be followed at Lantmäteriets homepage. See here.
Availability from within WindPRO
The data are available directly from within windPRO in 50 meter resolution. As a part of the processing of the GSD elevation data from our EMD server, the user has an option of choosing if the data downloaded should be received as either raw gridded data or converted to height contour lines. In order to use the data for energy yield calculations, the data must be converted to contours. The data can be accessed from the online-services in the following objects:
Line Object (with purpose to height contour lines)
Elevation Grid Object
License and Attribution
The product belongs to the open data of the Swedish Geodata Agency (Lantmäteriet). The data have been released through the Creative Commons Zero (CC0) license. While the CC0 license does not require attribution, EMD recommends to use one – such as the following:
Source: Contains GSD elevation data from Lantmäteriet, Sweden. 
Distribution through EMD and windPRO.

Acknowledgements
Lantmäteriet, Sweden for the dissemination of the GSD-Höjddata (GSD-Elevation Data) are thanked for making this great digital elevation dataset available in the public domain and thus for aiding the development of renewable energy.
Integration of this dataset into EMD services was co-supported through the InnoWind project ([http://www.innowind.dk www.innowind.dk) which is co-funded by the Danish Innovation Fund
External Links