Difference between revisions of "Luxembourg Elevation Model"
From Wiki-WindPRO
 

Line 1:
Line 1:
−

This page will hold the Luxembourgish elevation model description.

+
 
+

the

 
+

 

 
+

 

 
+
 
+

Luxembourgish elevation model

 
+

 

 
+
 
+
 
+
 
+
 
+

 

 
+
 
+
 
+
 
+
 
+

 

 
+
 
+

 

 
+
 
+
 
+

 

 
+
 
+

 

 
+
 
+
 
+
 
+

 

 
+
 
+
 
+

.
---
Revision as of 08:24, 3 June 2019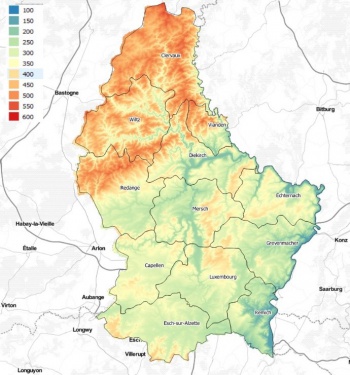 Introduction
The Luxembourgish elevation model in 5m grid resolutions is a digital terrain model produced by the Luxembourgish government through its 'Administration du cadastre et de la topographie'. The model is named BD-L-MNT5. Spatial coverage is for the national territory of Grand Duchy of Luxembourg. The data available in windPRO was accessed during early 2019.
Availability from within windPRO
The data are available directly from within windPRO in 5-meter resolution. The data can be accessed from the online-services in the following objects:
Line Object (with purpose to height contour lines)
Elevation Grid Object
Reference Coordinate System
Raw data was delivered as geotiff files with the following data:
Projection: Luxembourg 1930 / Gauss (EPSG:2169)
Vertical reference system: Luxembourg (NG95) system - referring to the tide gauge in Amsterdam (Normal Null - Pegel Amsterdam)
Accuracy of the model is stated to be in the order of 1 to several meters.
License and Attribution
The product belongs to the open data of the Grand Duchy of Luxembourg through its administration of cadastre and topography (l'administration du cadastre et de la topographie, ACT). The data have been released through the Creative Commons Zero (CC0) license. While the CC0 license does not require attribution, EMD recommends to use one – such as the following:
Contains elevation data from the administration of cadastre and topography in Luxembourg (ACT). Distribution through EMD and windPRO.
Acknowledgements
The Luxembourgish government through its 'Administration du cadastre et de la topographie' are thanked for producing this digital elevation dataset – and disseminating it in the public domain - and thus for aiding the development of renewable energy.
Integration of this dataset into EMD services - was co-supported through the InnoWind project (www.innowind.dk) - which is co-funded by the Danish Innovation Fund
External Links