Difference between revisions of "Spanish Topographic Map"
From Wiki-WindPRO
---
Revision as of 09:22, 28 March 2019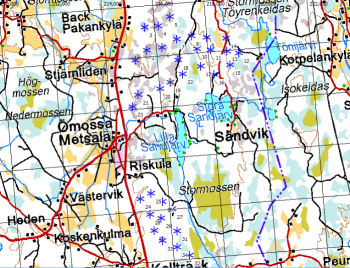 Introduction
The Spanish Topographic Map is a part of the dynamic, zoomable maps in windPRO. The maps were developed by National Geographic Institute of Spain (Instituto Geográfico Nacional, IGN) - and the dynamic map service in windPRO holds scales of 1:50000, 1:200000, 1: 500000 and 1:1250000. Coverage is the whole of Spain.
Usage Notes
The map was derived from source data accessed in January 2019
Availability from Within windPRO
From map window: Click the 'Add map' globe-icon -> then 'Dynamic Maps'
From main menu: Click 'Project' -> 'Properties' -> 'Background Maps' -> 'Dynamic Maps'
License and Attribution
The product belongs to the open data of the National Geographic Institute of Spain. The data have been licensed under a Creative Commons Attribution 4.0 International License. More information can be found in the ministry order which can be accessed from the links below. Please accept the license conditions and use a proper attribution when using this dataset, such as: Contains elevation data from the Spanish Instituto Geográfico Nacional (IGN). Distribution through EMD and windPRO. MTD05/MTD25 2008-2019 CC-BY 4.0 ign.es
   Order FOM 2807 of 18 December 2015:
   https://www.emd.dk/files/windpro/FOOT_OrdenFOM2807_eng.pdf

   License conditions:
   https://www.emd.dk/files/windpro/Condiciones_licenciaUso_IGN_eng.pdf

Acknowledgement
The National Geographic Institute of Spain (Instituto Geográfico Nacional, IGN) are thanked for producing this digital elevation dataset – and disseminating it in the public domain and thus for aiding the development of renewable energy.
Integration of this dataset into EMD services - was co-supported through the InnoWind project (www.innowind.dk) - which is co-funded by the Danish Innovation Fund
External Links