Austrian Elevation Model
Jump to navigation
Jump to search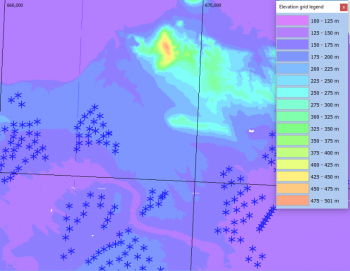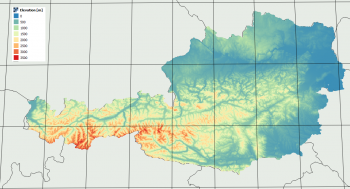 Introduction
The Austrian elevation model is a digital terrain model (Digitales Geländemodell) produced by the geoland project – a joint effort and portal from the nine provinces of Austria. The Austrian DTM model was built from airborne laserscans.
Dataset Overview
Spatial Coverage: Austria
Resolution: 10 m
Data-type: Digital Terrain Model (DTM)
Coordinate system: Austrian Lambert (EPSG 31287) in original data
Version: Data downloaded in January 2019.
Vertical Accuracy: N/A
Availability from within WindPRO
The data are available directly from within windPRO in 10-meter resolution. The data can be accessed from the online-services in the following objects:
Line Object (with purpose to height contour lines)
Elevation Grid Object
License and Attribution
The product belongs to the open geo-data of Austria (Offene Daten Österreich). The data have been licensed under a Creative Commons Attribution 3.0 Austria License (CC BY 3.0 AT).
Please accept the license conditions and use a proper attribution when using this dataset, such as:

Contains Austrian elevation data from the Geoland Project (geoland.at). 
Distribution through EMD and windPRO. CC BY 3.0 AT geoland.at.

Acknowledgement
The Geoland project and the Austrian provinces are thanked for producing this digital elevation dataset – and disseminating it in the public domain and thus for aiding the development of renewable energy.
Integration of this dataset into EMD services was co-supported through the InnoWind project (www.innowind.dk) which is co-funded by the Danish Innovation Fund
External Links
Description of the elevation model - Austrian Data Catalogue - HERE
InnoWind project: http://www.innowind.dk