Estonian Elevation Models
Jump to navigation
Jump to search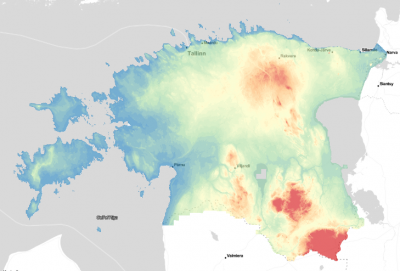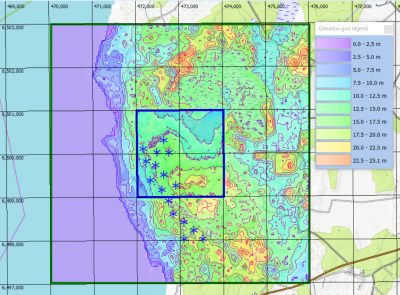 Introduction
The Estonian elevation models in 5m and 25m grid resolutions are digital terrain models produced by the Republic of Estonia Land Board. Spatial coverage is for the whole of Estonia. The models are created from LIDAR surveys – where 1/4 of Estonian territory is laser-scanned every year. The data available in windPRO were procured during May 2019.
Dataset Overview
Spatial Coverage: Estonia
Resolution: 5m and 25m
Data-type: Digital Terrain Model (DTM)
Coordinate system:

Estonian Coordinate System of 1997 (EPSG: 3301)
Vertical: Vertical datum used is EH2000 height system (EVRS - European Vertical Reference System) - based on NAP (Normaal Amsterdam Peil).

Version: Data downloaded in early 2019.
Vertical Accuracy: N/A
Availability from within windPRO
The data are available directly from within windPRO in 5 or 25-meter resolution. The data can be accessed from the online-services in the following objects:
Line Object (with purpose to height contour lines)
Elevation Grid Object
License and Attribution
The product belongs to the open data of the Estonian Land Board. The data have been licensed under a 'License of open data by Estonian Land Board' – dated 2018.07.01 – or at this PDF. Please accept the license conditions and use a proper attribution when using this dataset, such as:
Contains: Elevation data: Estonian Land Board 2012-2017. 
Distribution through EMD and windPRO.

Acknowledgements
The Estonian Land Board and the pubic of Estonia are thanked for producing this digital elevation dataset – and disseminating it in the public domain - and thus for aiding the development of renewable energy.
Integration of this dataset into EMD services was co-supported through the InnoWind project (www.innowind.dk) which is co-funded by the Danish Innovation Fund
External Links