Estonian Topographic Map
Jump to navigation
Jump to search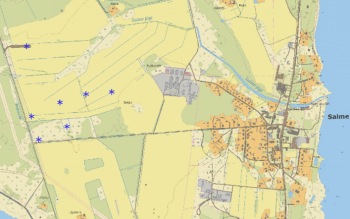 Introduction
The Estonian Topographic Map is a part of the online map services in windPRO. The topographic maps in 1:10000 resolution were developed by the Land Board of Estonia – and are derived from an updated geo-spatial database. For this scale, coverage is the whole of Estonia. For coarser scales maps are generated from vector maps from EuroGlobalMap.
Usage Notes
This map is generated from two sources:
Zoom-level 13-18 are based on 1:10000 maps that were derived from source data accessed in January 2019 - from the Land Board of Estonia.
Zoom level 5-12 are based on vector maps. Here raster-maps are generated at different scale. These maps were derived from EuroGlobalMap data covering Estonia.
Availability from Within windPRO
From map window: Click the 'Add map' globe-icon -> then 'Dynamic Maps'
From main menu: Click 'Project' -> 'Properties' -> 'Background Maps' -> 'Dynamic Maps'
License and Attribution
This map is generated from two different sources:
Topographic Map from Estonian Land Board in 1:10000 scale:
This data-product belongs to the open data of the Estonian Land Board. The data have been licensed under a 'License of open data by Estonian Land Board' – dated 2018.07.01 – or at this PDF.
EuroGlobalMap 2019 (vector map)
This product is an open data map from Eurogeographics. The data is released through the EuroGeographics Open Data Licence see here or this pdf-file.
Please accept the license conditions and use a proper attribution of the three sources of data when using this dataset, such as:
Data Sources:  
1: Topographic Map of Estonia: Estonian Land Board 2012-2017. Distribution through EMD and windPRO. 
2: This product includes Intellectual Property from European National Mapping and Cadastral Authorities and is licensed on behalf of these by EuroGeographics. 
   Original product is freely available at eurogeoarchive.srgry.uk. 
   Terms of the licence available at http://eurogeoarchive.srgry.uk/form/topographic-data-eurogeographics

Acknowledgement
The Estonian Land Board and the pubic of Estonia are thanked for producing this digital topographic map dataset – and disseminating it in the public domain - and thus for aiding the development of renewable energy.
Eurogeographics are thanked for releasing their EuroGlobalMap as an open dataset.
Integration of this dataset into EMD services was co-supported through the InnoWind project (www.innowind.dk) which is co-funded by the Danish Innovation Fund
External Links