Finnish Orthophoto Mosaic
Jump to navigation
Jump to search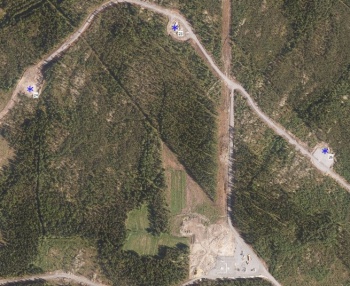 Introduction
The Finnish Orthophoto Mosaic is a part of the dynamic, zoomable maps in windPRO. The orthophotos were released by the National Land Survey of Finland and – in order to cover the entire Finland - they come from multiple annual campaigns. Update frequency for the orthophotos is every 3-10 years. The mosaic in windPRO is based on the most recent data available. Pixel size is 0.25m-0.50m.
Usage Notes
The mosaic was created from available data sources accessed in January 2019
The most recent imagery is used to create the mosaic (at some locations, images from more years exists)
The mosaic holds data from 2018-2008, with main parts of the imagery from periods 2018-2016 and 2012-2010
Availability from within windPRO
From map window: Click the 'Add map' globe-icon -> then 'Dynamic Maps'.
From main menu: Click 'Project' -> 'Properties' -> 'Background Maps' -> 'Dynamic Maps'
License and Attribution
The map is distributed based on sources that belongs to the open data of the National Land Survey of Finland. Open data by the National Land Survey of Finland is licensed under a Creative Commons Attribution 4.0 International License.
Please use the following attribution when using this dataset: Orthophotos from the National Land Survey of Finland - Databases 01/2019. Data-processing and distribution by EMD and windPRO.
Acknowledgement
The National Land Survey of Finland (Maanmittauslaitos, MML) are thanked for producing this digital dataset – and disseminating it in the public domain and thus for aiding the development of renewable energy.
"Kapsi" Finnish Internet Users Association are thanked for holding an accessible copy of the open geodata.
Integration of this dataset into EMD services was co-supported through the InnoWind project (www.innowind.dk) which is co-funded by the Danish Innovation Fund
External Links
National Land Survey of Finland: https://www.maanmittauslaitos.fi