Finnish Wind Turbines
Jump to navigation
Jump to search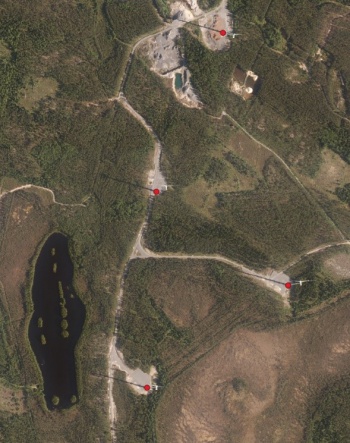 Introduction
From 2019, windPRO contains a database of more than 500 existing wind turbines in Finland. WindPRO integration by EMD is based on two sources: Positions of all wind-turbines come from a database with basic geodata produced by the National Land Survey of Finland. The positions were supplemented with metadata on wind farm project information and turbine manufacturer. These data are from the Finnish Wind Power Association (Suomen Tuulivoimayhdistys) and Ethawind.
Usage Notes
The database was derived from geodata accessed in January 2019
Turbine types are not only industrial grade, but also smaller domestic turbines and classic/historical wind turbines exist in the database
Availability From within windPRO
Import data: Is done by accessing the drop-down menu in windPRO: 'Data' -> 'Online WTG Data'
What data are available? WindPRO will parse the available and relevant data - and add it to the WTG Object. WindPRO will also write the available metadata into the 'Description' tab of the 'Existing WTG'-Object.
The wind farm data in this dataset is not detailed enough to allow a mapping to the windPRO WTG catalogue. As such the imported WTG-object will be created at the correct position with the following description of the object:
Not found: <Manufacturer> - <Rated Power> - <project name>
(Depending on the availability of the metadata-information about this particular wind turbine location)
License and Attribution
The database was derived from data that belongs to the open data of the National Land Survey of Finland. Open data by the National Land Survey of Finland is licensed under a Creative Commons Attribution 4.0 International License.
Please use the following attribution when using this dataset:
Derived from geospatial data from the National Land Survey of Finland - Databases 01/2019. Wind farm metadata from Finnish wind power association and Ethawind. Data-processing and distribution by EMD and windPRO.
Acknowledgements
The National Land Survey of Finland (Maanmittauslaitos, MML) are thanked for producing this digital elevation dataset – and disseminating it in the public domain and thus for aiding the development of renewable energy.
Finnish Wind Power Association (Suomen Tuulivoimayhdistys) and Ethawind are thanked for maintaining a map/spreadsheet with wind farm data.
"Kapsi" Finnish Internet Users Association are thanked for holding an accessible copy of the open geodata.
Integration of this dataset into EMD services was co-supported through the InnoWind project (www.innowind.dk) which is co-funded by the Danish Innovation Fund
External Links
Project List: http://www.tuulivoimayhdistys.fi/en/wind-power-in-finland/industrial-wind-power-in-finland/
Wind turbine map by Ethawind: https://ethawind.com/map/