Iceland Elevation Model
Jump to navigation
Jump to search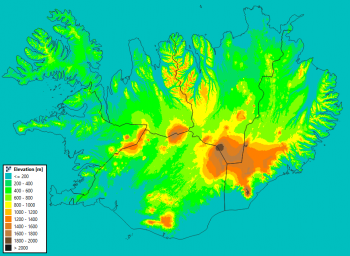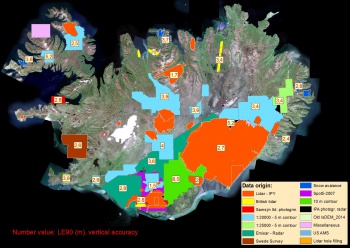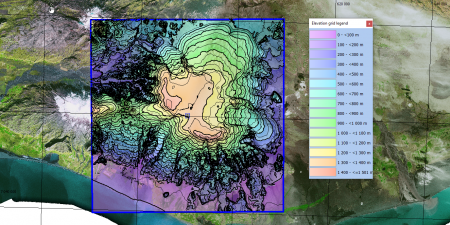 Introduction
Iceland LMI Elevation Model 2016 - 10m resolution (LMÍ Hæðarlíkan 2016):
The National Land Survey of Iceland has released a DTM of Iceland - covering the whole country: This new DTM is an upgrade of an earlier DTM. The recent data added, which vary in origin, cover 39.100 km2 or some 38% of the country. As seen from the image below, this DTM is a multi-source mosaic.
Dataset Overview
Spatial Coverage: Iceland
Resolution: 10m
Data type: Digital Terrain Model (DTM)
Coordinate System: ISN93 / Lambert (EPSG:3057) - in original data.
Version: 2016 (with data accessed in spring 2022)
Vertical accuracy: Varies, see image to the right and usage notes below
Usage Notes
An alternative Icelandic elevation model (IcelandDEM version 1.0) is available from the National Land Survey of Iceland, that is based on stereo-imagery from satellites.
The vertical accuracy of the new (2016) data added are (see location on figure to the right):

Lidar data for the glaciers of Iceland (surveyed in the years 2007-2012), 15144 km2, LE90: 2.65 m.
Data from 5-m-contour lines, 10736 km2, LE90: 3.9 m.
Emisar radar data, 4536 km2, LE90: 3.2 m.
Data from 10-m-contour lines, 2938 km2, LE90: 8.48 m,
SwedeSurvey photogrammetic data, 1433 km2, LE90: 2.60 m,
1:25.000 contour data, 1152 km2, LE90: 3.8 m,
British lidar data (courtesy of Dr. Susan Conway, Open University), 532 km2, LE90: 0.96-4.63 m.
Availability from within WindPRO
The data are available directly from within windPRO in 10-meter resolution. The data can be accessed from the online-services in the following objects:
Line Object (with purpose to height contour lines)
Elevation Grid Object
Acknowledgement
The LMI are thanked for producing this digital elevation dataset – and disseminating it in the public domain and thus for aiding the development of renewable energy - and wind energy in particular.
License
The product belongs to the open geo-data of Iceland - and it was released from the National Land Survey of Iceland according to the Creative Commons Attribution 4.0 International License. An attribution must be made when using data, such as:
Contains data from the Iceland LMI Elevation Model 2016 from the National Land Survey of Iceland (LMI)
Distribution through EMD and windPRO. CC BY 4.0.

External Links