Netherlands Elevation Models
Jump to navigation
Jump to search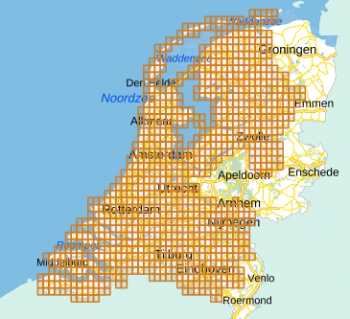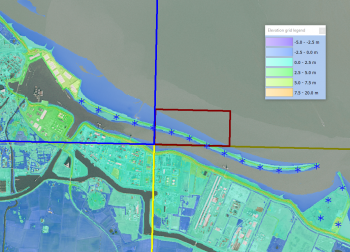 Introduction
WindPRO distributes two digital elevation models with dedicated coverage over the Netherlands: the version 2 and 3 of the AHN-model (Actueel Hoogtebestand Nederland). Both models are derived from laser scans of the country. AHN2 is the model that holds full national coverage – with data sources originating from 2007-2012. AHN3 is based on newer measurements with more modern equipment. AHN3 campaigns started in 2014 and are still being done. Currently (early January 2019) about 70% of the country is covered by AHN3. Full national AHN3 coverage is expected during 2019.
The AHN models delivered with windPRO are digital terrain models derived from the laser scans – with an average of 8 measurements per square meter. According to AHN documentation, the DTM model was created from all points classified as 'ground level', then the grid was created using a squared inverse-distance-weighting method. Points that was classified as not ground level (i.e. trees, buildings, bridges, water) was not used in the resampling.
The AHN is a cooperation between the provinces, national government and the water boards.
Dataset Overview
Spatial Coverage: Netherlands
Resolution: 5 m
Data-type: Digital Terrain Model (DTM)
Coordinate system: Amersfoort / RD New (EPSG: 28992)
Version: Data downloaded in early 2019.
Vertical Accuracy: 99.7% of the data have an acurracy within 0.20m.
Usage Recommendation
It is recommended to use the latest verion of the AHN data (i.e. AHN3) if those data are available for the site of interest.
Availability from within WindPRO
The data are available directly from within windPRO in 5-meter resolution. The data can be accessed from the online-services in the following objects:
Line Object (with purpose to height contour lines)
Elevation Grid Object
License and Attribution
The product belongs to the open data of the AHN, Actueel Hoogtebestand Nederland. The data have been licensed under a Creative Commons Zero License, so data is fully in the public domain. Before using the data, please accept the license conditions. As stated, an attribution is not needed, but it is something that we recommend. An attribution could be:

Contains elevation data from the Actueel Hoogtebestand Nederland (AHN). 
Distribution through EMD and windPRO. License: CCO 1.0.

Acknowledgement
The AHN, Actueel Hoogtebestand Nederland, are thanked for producing this digital elevation dataset – and disseminating it in the public domain and thus for aiding the development of renewable energy.
Integration of this dataset into EMD services was co-supported through the InnoWind project ([http://www.innowind.dk www.innowind.dk) which is co-funded by the Danish Innovation Fund
External Links
Description of the AHN elevation models: http://www.ahn.nl/
InnoWind project - http://www.innowind.dk