UK-Great Britain: OS Open Maps
Jump to navigation
Jump to search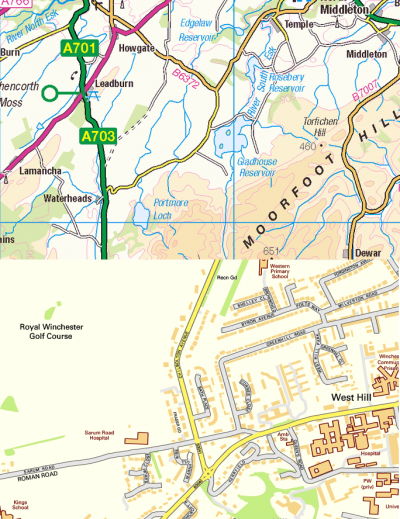 Introduction
The UK - OS Raster Maps (OS OpenData) is a map service in windPRO that delivers maps originally provided by UK - Ordnance Survey. The maps cover Great Britain. The OS OpenData maps available in WindPRO display is the basic OS Open Data raster maps. These will allow you to change the scale as desired. Samples of OS OpenData are displayed in the figure below. The map service links to maps in nominal scales from 1:10000 to 1:5000000.
Availability from within windPRO (Dynamic Map)
From map window: Click the 'Add map' globe-icon -> then 'Dynamic maps' -> select 'UK-Great Britain: OS Open Maps'.
From main menu: Click 'Project' -> 'Properties' -> 'Background Maps' -> then 'Dynamic maps' -> select 'UK-Great Britain: OS Open Maps'.
License and Attribution
This map is created based on sources that belongs to the open data of the Ordnance Survey (OS). Open data by OS is licensed under the Open Government License - see here. The license is designed to be compatible to be compatible with the Creative Commons License. It is required that the source of information is mentioned when using these data, so please use the following attribution when using this dataset in reports or publications:
License: Contains public sector information licensed under the Open Government Licence v3.0. 
Contains Ordnance Survey data © Crown Copyright and database right 2020. Data-processing and distribution by EMD and windPRO.

You are free to copy, distribute, transmit and adapt OS OpenData, as long as you credit Ordnance Survey.
Acknowledgement
The UK public and the government of the UK (with the Ordnance Survey as its representative) are thanked for producing these raster maps and disseminating them with an open-data licence - and thus aiding the development of renewable energy – and wind energy in particular.
External Links