UK-OS Terrain 50
Jump to navigation
Jump to search
Introduction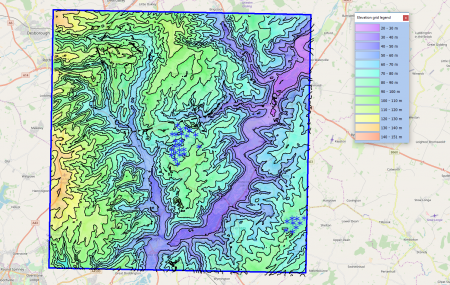 OS Terrain 50 is a digital elevation dataset for Great Britain – actively maintained by the Ordnance Survey: Two versions of the dataset exist: one vector-dataset that provides height contours with a 10 m vertical spacing and one gridded dataset with a grid-spacing of 50 m. The resolution of the dataset corresponds to a 1:50000 mapping scale. Update frequency is once a year – in July. Three versions are accessible from with windPRO - the recent 2020 version and earlier versions from 2018 and 2014.
Dataset Overview
Spatial Coverage: The whole of Great Britain (but not including Northern Ireland).
Resolution: 50m grid spacing
Data-type: Digital Terrain Model (DTM)
Coordinate system:

Horizontal: British National Grid (EPSG: 27700) in original data
Vertical: Ordnance Datum Newlyn (EPSG: 5701)

Version: Three versions are available with windPRO: 2020, 2018 and 2014
Vertical Accuracy: 4m RMSE
Usage Notes
For projects in Northern Ireland, we recommend the OSNI Open-Data 10m gridded digital elevation dataset.
For projects in Wales - also consider the LiDAR dataset available in the Wales Elevation Model.
Need higher resolution data? OS maintains a commercial, higher resolution dataset 'OS Terrain 5'
The user guide and technical specification for the OS Terrain 50 dataset is available here in this pdf-file.
We recommend using the most recent version of the data (e.g. for windPRO: the 2020 release)
Availability in WindPRO
The 'OS Terrain 50' data can be accessed from the online-services in the following objects:
Line Object (with purpose to height contour lines)
Elevation Grid Object
Licence
The data is distributed according to the OS OpenData terms . Please take proper care to add proper attribution in order to acknowledge the source of information. Typically, this is done by adding the following statement to your report-picture or map:
Credit: Contains OS data © Crown copyright and database right 2020. Distribution through EMD and windPRO.

Acknowledgements
The UK Ordnance Survey and the public of UK are thanked for producing this digital elevation dataset – and disseminating it in the public domain and thus for aiding the development of renewable energy.
Raw Data Types
Raw vector data is stored in shape file format or GML3.2.
Grid data is stored in either ASCII-Grid or GML3.2.
External Links