WindPRO European Satellite Imagery
Jump to navigation
Jump to search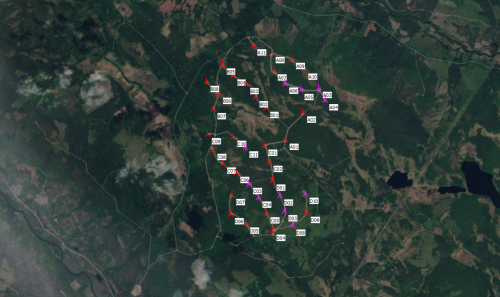 Introduction
The "windPRO European VHR Satellite Imagery – 2.5m" give users of windPRO 3.2+ free access to very high-resolution satellite images from 39 European countries. The true-color images are obtained by high resolution satellites with a pixel resolution is approximately 2.5 meters.
Dataset Description
The "windPRO European VHR Satellite Imagery – 2.5m" is a true color very high resolution (VHR) satellite imagery dataset. Spatial resolution is 2.5m. The dataset was released by the European Environmental Agency through the Copernicus Land Monitoring Service and is a mosaic generated from the following satellite sensors:
SPOT-5 at 2.5m pan-sharpened
SPOT-6 at 1.5m pan-sharpened
FORMOSAT-2 at 2m pan-sharpened
Access, Resolution and Coverage
Access: From within the 'Dynamic Maps' section in the windPRO background map area. You will need a windPRO version 3.2+ and and active service agreement to access the data.
Resolution: The maximum spatial resolution is 2.5 m per pixel. Data is from the period January 2011-December 2013.
Coverage: The "windPRO European Satellite Imagery – 2.5" dataset covers 39 European countries: Albania, Austria, Belgium, Bosnia and Herzegovina, Bulgaria, Croatia, Cyprus, Czech Republic, Denmark, Estonia, Finland, France, Germany, Greece, Hungary, Iceland, Ireland, Italy, Kosovo, Latvia, Liechtenstein, Lithuania, Luxembourg, The former Yugoslavian Republic of Macedonia, Malta, Montenegro, Netherlands, Norway, Poland, Portugal, Romania, Serbia, Slovakia, Slovenia, Spain, Sweden, Switzerland, Turkey and United Kingdom.
Known Issues
Some areas may hold cloud cover.
License and Acknowledgement
The European Commission, the European Environmental Agency (EEA) and the Copernicus Programme are acknowledged for the funding, development and release of the free and open dataset.
Development of this dataset and integration into EMD services was co-supported through the InnoWind project ([http://www.innowind.dk www.innowind.dk) which is co-funded by the Danish Innovation Fund
Attribution
Proper attribution for this data-set would be: "WindPRO European VHR Satellite Imagery – 2.5m by EMD International A/S (Contains modified Copernicus data)".
External Links
Innowind Project: http://www.innowind.dk/
Copernicus Data: http://copernicus.eu/