DE Wind Turbines MaStR
Jump to navigation
Jump to search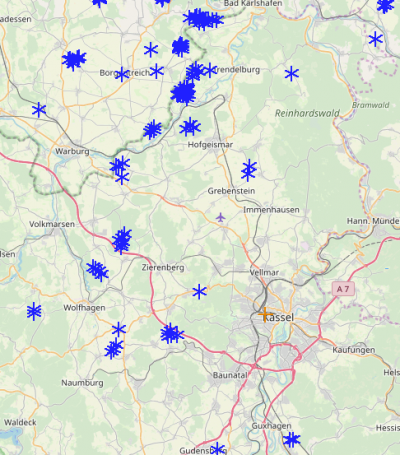 Introduction
The MaStR - Marktstammdatenregister - is the official, public german database for wind turbines. It contains information such as wind turbine data (manufacturer, model, hub-height) along with geographical information such as location and commissioning date. New wind turbines are required by law, to register in the database within one month after commissioning. Older wind turbines must complete their data entries before January 31, 2021 - so the database is still being developed and expanded.
As of April 2020, users of windPRO 3.3+ can download data about existing wind turbines in Germany from the federal German energy market actor database (Marktstammdatenregister or MaStR). Available metadata can be found in the 'Description' tab of the WTG-object in windPRO.
EMD's database 'DE Wind Turbines MaStR' is automatically updated from the official database every week. Turbines which are deleted from the MaStR register, due to invalid data entries or other reasons, are removed from our database every week.
Usage Notes
The German MaStR database is still being expanded and being developed. As such, there are a number of issues to be aware about:
The data is submitted by the operator of the WTG and it has not been edited by EMD.
EMD's MaStR database is automatically updated from the official database every week.
Currently, content and locations from the MaStR database may be less precise and less complete than those provided by Openstreetmap, see also the evaluation section below. Plase validate locations by alterative sources, from a recent satellite or orthophoto - or from an on-location survey.
When data is loaded into windPRO, a mapping from the MaStR turbine type to a known type from the windPRO wind turbine catalogue is made. About 60% will provide a first match, so please consider to manually edit and validate the turbine type after downloading.
Commissioning / decommissioning dates are available, if submitted by the operator (see 'Existing WTG' object properties → Tab Operation → Start/End dates).
Turbine types are not only industrial grade, but also smaller domestic turbines and classic/historical wind turbines exist in the database.
At 2020-06-30, we have 20124 records in the database (that is about 70% of the known wind turbines in Germany)
Availability from within windPRO
Downloading the MaStR data into windPRO is a simple 1-2-3 process - as outlined in the figures below.
1. Click the "Import existing WTG's" toolbar button.
2. Select the Marktstammdaten­register. Click "Next"
then "Ok" to search for MaStR WTG's.
3. Once imported, it's possible to view a detailed description.
Data Evaluation
Distance from MaStR turbine to nearest OSM turbine.

| Distance Category | Count | Freq. |
| --- | --- | --- |
| Precise (<25 m) | 10527 | 77.1% |
| Fairly precise (<100 m) | 1220 | 8.9% |
| Guess (<1000 m) | 1143 | 8.3% |
| Wrong (<25 km) | 751 | 5.5% |
At release time in windPRO (April 2020), we have compared the MaStR data with other sources in order to evaluate its completeness and accuracy. This has resulted in the following findings.
About 46 % of the turbines within the German federal boundaries are currently registered in the database - the MaStR database holds 13641 wind turbine records with location record and also marked as in-operation (In Betrieb). Other sources state that about 30000 turbines exist in Germany, with IEAwind stating about 29844 turbines in Germany and OSM having registred about 28000.
About 10% of the 15000 records in the MaStR database are registred outside German federal boundaries or with no location given (this may be offshore locations - or within countries like Netherlands, Poland, Belarus and Italy).
77% of the MaStR wind turbine locations have a match from OSM within a distance 25m (see the table below)
Note: This analysis was made during early April 2020 and reflects the data-status of April 10th 2020 for both MaStR data and OSM data.
License and Attribution
All data of the Marktstammdatenregister accessible via windPRO is public data. Its accessibility is required by law according to §111e of the German Energiewirtschaftsgesetz (Energy Industry Act) and there are no limitations to the use of the data. The database was derived from data that belongs to the open data of the German Bundesnetzagentur. The data is publicly available from https://www.marktstammdatenregister.de/MaStR. Please use the following attribution when using this dataset:
Derived from geospatial data from the Marktstammdatenregister operated by German Bundesnetzagentur. 
Data-processing and distribution by EMD and windPRO. 

Acknowledgements
The German Bundesnetzagentur are thanked for producing this database – and disseminating it by an API - and thus for aiding the development of renewable energy and wind-energy in particular
Parts of the development and integration of this dataset into EMD services was co-supported through the InnoWind project ([http://www.innowind.dk www.innowind.dk) which is co-funded by the Danish Innovation Fund
External Links