Danish Windindex Data
Jump to navigation
Jump to search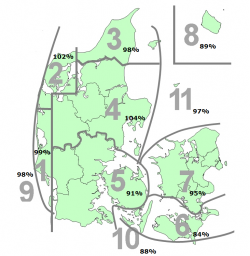 The Danish Wind Index Data is a wind turbine production index that is developed and maintained by EMD International A/S.
The Windindex data is imported and utilized in the WCP (Windindex Corrected Production) section of the Performance Check module.
The data originates from http://www.vindstat.dk/ and is updated on a monthly basis.
Validation
The method and its results has been validated in a number of memos and publications (mainly in Danish). You can find the publications here:
Data Examples in the WindPRO Performance Check
An example of the windindex data is displayed in the figure below. The data is split into regions, of which there are currently 11 in Denmark.
Method for Calculating the WCP
Using the WCP is very convenient when comparing actual production data against calculated production. EMD has produced a small memo that describes the method used when removing erroneous data and correcting for differences in wind indexes. The memo is available here:
License
You will need a license for the Danish WTG Catalogue (Existing Turbines in Denmark) in order to use this feature. Prices are found here: http://www.emd.dk/WindPRO/Price%20List/