RASP Sweden
Jump to navigation
Jump to search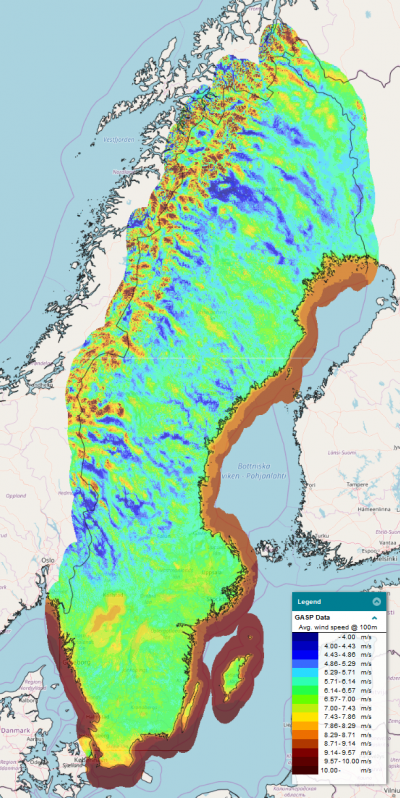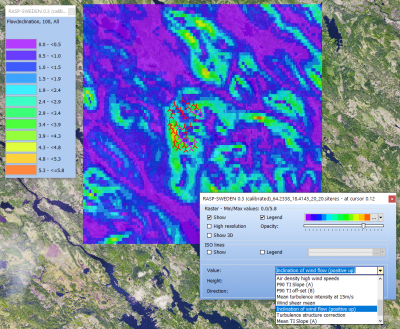 Introduction
'RASP-Sweden 0.3 (calibrated)' is a calibrated Regional Atlas of Siting Parameters (RASP) for Sweden for wind turbine resource evaluation and siting. It is a demonstration dataset, intended as a proof-of-concept and is currently in beta-release (version 0.3). A geospatial calibration procedure has been used to remove bias and reduce errors in the 'raw' GASP parameters. The dataset is released in windPRO 3.5+ and holds the following key features:
Regional Coverage: Sweden
Geospatially calibrated parmeters, 250m grid resolution
Parameters available: wind resource, siting parameters & turbine design classification
Builds on DTU GWA (Global Wind Atlas) datasets and EMD's Load Response technology
Is developed in the GASP project - a joint R&D project by EMD and DTU
Dataset Overview
Spatial coverage:

Onshore: Swedish National Coverage - and up to 50km from Swedish borders
Offshore: Areas are covered up to approximately 50 km from the coastline

Resolution:

Horizontal: 250m in grid resolution
Vertical: 100m and 150m hub height

Data-type: Atlas
Coordinate system: Geographical coordinates (EPSG: 4326) in original data
Version: 0.3 (this dataset is a demonstration dataset, and it is currently in beta release)
Validation and Usage Notes
How accurate is your resource and load-analysis based on GASP and RASP data - wihtin windPRO or windPROSPECTING?
We have prepared a small validation note - based on data from 50+ high quality meteorological towers in Sweden - that gives you a first hint on bias and uncertainty - read more - here.
If you are interested in the global GASP-validation (based on 241 masts), that is availble from the wiki-page for GASP.
What does it mean that RASP-Sweden is in beta-release?
The dataset is a proof-of-concept, intended to show how local data can be assimilated into the GASP dataset in order to improve accuracy. The geospatial predictors used is currently 'under-development', and will be improved. The current version 0.3 has some issues with turbulence in near coast areas (turbulence is overpredicted). This will be significantly improved in upcoming versions.
Availability from within EMD software
windPRO: In 'Data' menu click 'Siting parameters (GASP etc)' to access the download tool. Data is loaded into a result layer with a .siteres file acting as the data-container.

The .siteres file can be used in PARK, Site Compliance, Load Response and Optimization calculations.

windPROSPECTING: GASP data is available through the data-tab named 'Site-prospecting'. Free access to windPROSPECTING - here.

windprospecting offers spatial view of omnidirectinal parameters and detailed point-data with directional results and statistics.

EMD-API: Read more at the dedicated wiki-page for our Global Atlas Data Services - here. If you are accessing the GASP data from within the EMD-API, you will use the parameter group-names in order to request specific data-packages [resource-omni, resource-sector, siting-extremes, siting-fatigue-omni, siting-fatigue-sector, turbine-fatigue, turbine-fatigue-recommend, turbine-extreme, turbine-extreme-recommend].
Parameters and Dimensions
For the list of parameters available - please see the GASP-Global dataset.
The RASP-Sweden set of parameters are similar to the GASP-Global, however the vertical dimension is currently limited to 100m and 150m a.g.l. (as opposed to the GASP-Global with 3 heights of 50m, 100m and 150m).
Attribution
If data from this dataset is used within any private or public disseminations, then EMD and its data providers must be acknowledged.
Source: 
RASP-Sweden version 0.3 is a regional atlas of site parameters accessible via windprospecting.com, windPRO and EMD-API.
This dataset builds and extends upon the GASP 1.0 dataset - developed by EMD and DTU.

Acknowledgement
RASP Sweden was made as a part of the GASP-Project. GASP is the result of a BIG collective effort by many people at: EMD International A/S & DTU Wind Energy, with overall project manager Xiaoli Larsén
Develoment and integration of this dataset into EMD services was done through the GASP project which is co-funded by the EUDP and the Danish Energy Agency
External Links & References
GASP Project Home-Page at DTU - here
An open-access, peer-reviewed paper is available from the Wind Energy Journal:
The Global Atlas for Siting Parameters project: Extreme wind, turbulence, and turbine classes by Xiaoli Guo Larsén, Neil Davis, Ásta Hannesdóttir, Mark Kelly, Lasse Svenningsen, René Slot, Marc Imberger, Bjarke Tobias Olsen and. Rogier Floors.