Taiwan Elevation Model
Jump to navigation
Jump to search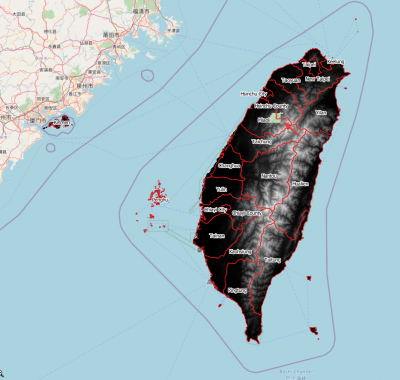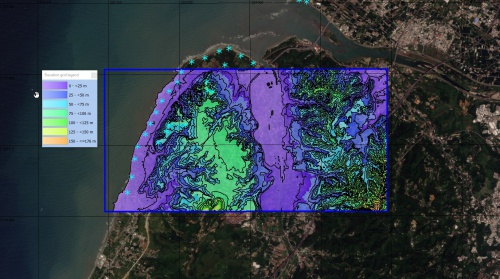 Introduction
Taiwan Elevation Model 2020 - 20m resolution:
The National Development Council of Taiwan has released a digital elevation model (DTM) that covers the region of Taiwan. Most parts of the main island of Taiwan are covered, along with some outlying islands: Guishan Island, Green Islands, Orchid Islands & Xiao Liu Qiu (Liuqiu).
Dataset Overview
Spatial Coverage: Taiwan, Kinmen (Golden Gate), Penghu and other minor outlying islands.
Resolution: 20m
Data type: Digital Terrain Model (DTM)
Coordinate System: TWD97 (EPSG:3826) - in most of the original data.
Version: 2020 (with data accessed in spring 2022)
Vertical accuracy: N/A
Usage Notes
Question: In the original data - a small part of the model is missing between Hsinchu county and Miaoli (see image to the right, marked with red arrow)? Answer: According to the National Development Council, this is due to air traffic control restrictions within that area of approximately 12km x 12km in size. Thus, no official elevation information is available. If you are developing projects near that area, we recommend to patch in data from one of the global elevation models like Copernicus GLO-30 m, NASA.DEN or the AW3D30. This is easily done using the elevation grid object in windPRO.
Question: Is other versions of the Taiwan elevation models available? Answer: Yes, the National Development Council of Taiwan has also released elevation models with version years 2016 and 2018. If you need those, please consult the website for the National Development Council of Taiwan - see the external links below.
Availability from within WindPRO
The data are available directly from within windPRO in 20-meter resolution. The data can be accessed from the online-services in the following objects:
Line Object (with purpose to height contour lines)
Elevation Grid Object
Acknowledgement
The National Development Council of Taiwan are thanked for producing this digital elevation dataset – and disseminating it in the public domain and thus for aiding the development of renewable energy - and wind energy in particular.
License
This product belongs to the open geo-data of Taiwan - and it was released from the National Development Council of Taiwan follwing the Open Government Data License version 1.0 (see this pdf-file). An attribution must be made when using data, such as:
Contains data from the National Development Council of Taiwan: 2022 - Taiwan Elevation Model 2020.
Distribution through EMD and windPRO. License: Open Government Data License: https://data.gov.tw/license. 

External Links