US Wind Turbines
Jump to navigation
Jump to search
Introduction
A database of existing wind turbines in the United States is available for import in windPRO using Data -> Online WTG Data. The database has been published by the U.S. Geological Survey (http://usgs.gov) and consists of more than 64.550 wind turbines as of September 2020. Turbine positions have been verified by U.S. Geological Survey using visual interpretation of high-resolution aerial imagery.
Coverage
The database covers United States. Note that offshore wind farms are not included. See the interactive map displaying coverage.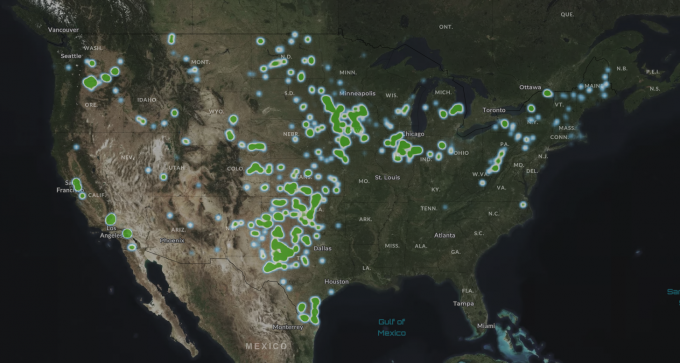 ]
The wind turbines in windPRO
The majority of the wind turbines (58.8%) in this database have been mapped to wind turbines in the windPRO WTG catalogue and as such the imported WTG object will have the correct type, rated power, hub height and rotor diameter.
In situations where the imported WTG type is unknown, the WTG object will still be created in the correct position and the description of the object will be:
Not found: <Manufacturer> <Rated Power> <Rotor diameter> <Hub height>
(Depending on the availability of additional information about this particular wind turbine)
Citation
Diffendorfer, J.E., Compton, Roger, Kramer, Louisa, Ancona, Zach, and Norton, Donna, 2014, Onshore industrial wind turbine locations for the United States through July 2013: U.S. Geological Survey Data Series 817, http://dx.doi.org/10.3133/ds817.
ISSN 2327-638x (online)
External Links
Interactive map: https://eerscmap.usgs.gov/uswtdb/viewer/#3/37.25/-96.25
Additional information: http://pubs.usgs.gov/ds/817/