RASP Sweden
From Wiki-WindPRO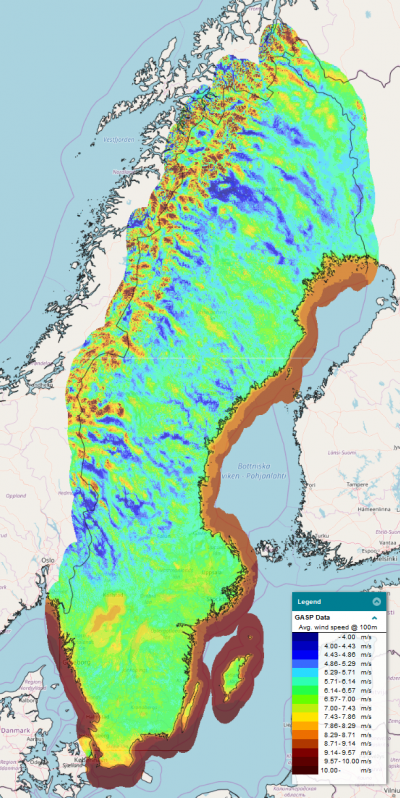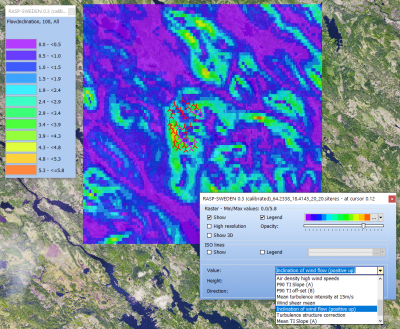 Introduction
'RASP-Sweden 0.3 (calibrated)' is a calibrated Regional Atlas of Siting Parameters (RASP) for Sweden for wind turbine resource evaluation and siting. A geospatial calibration procedure has been used to remove bias and reduce errors in the 'raw' GASP parameters. The dataset is released in windPRO 3.5+ and holds the following key features:
Regional Coverage: Sweden
Geospatially calibrated parmeters, 250m grid resolution
Parameters available: wind resource, siting parameters & turbine design classification
Builds on DTU GWA (Global Wind Atlas) datasets and EMD's Load Response technology
Is developed in the GASP project - a joint R&D project by EMD and DTU
Dataset Overview
Spatial coverage:

Onshore: Swedish National Coverage - and up to 50km from Swedish borders
Offshore: Areas are covered up to approximately 50 km from the coastline

Resolution:

Horizontal: 250m in grid resolution
Vertical: 100m and 150m hub height

Data-type: Atlas
Coordinate system: Geographical coordinates (EPSG: 4326) in original data
Version: 0.3 (this dataset is a demonstration dataset, and it is currently in beta release)
Availability from within EMD software
windPRO: In 'Data' menu click 'Siting parameters (GASP etc)' to access the download tool. Data is loaded into a result layer with a .siteres file acting as the data-container.

The .siteres file can be used in PARK, Site Compliance, Load Response and Optimization calculations.

windPROSPECTING: GASP data is available through the data-tab named 'Site-prospecting'. Free access to windPROSPECTING - here.

windprospecting offers spatial view of omnidirectinal parameters and detailed point-data with directional results and statistics.

EMD-API: Read more at the dedicated wiki-page for our Global Atlas Data Services - here. If you are accessing the GASP data from within the EMD-API, you will use the parameter group-names in order to request specific data-packages [resource-omni, resource-sector, siting-extremes, siting-fatigue-omni, siting-fatigue-sector, turbine-fatigue, turbine-fatigue-recommend, turbine-extreme, turbine-extreme-recommend].
Parameters and Dimensions
For the list of parameters available - please see the GASP-Global dataset.
The RASP-Sweden set of parameters are similar to the GASP-Global, however the vertical dimension is currently limited to 100m and 150m a.g.l. (as opposed to the GASP-Global with 3 heights of 50m, 100m and 150m).
Attribution
If data from this dataset is used within any private or public disseminations, then EMD and its data providers must be acknowledged.

Source: 
RASP-Sweden version 0.3 is a regional atlas of site parameters accessible via windprospecting.com, windPRO and EMD-API.
This dataset builds and extends upon the GASP 1.0 dataset - developed by EMD and DTU.

Acknowledgement
RASP Sweden was made as a part of the GASP-Project. GASP is the result of a BIG collective effort by many people at: EMD International A/S & DTU Wind Energy, with overall project manager Xiaoli Larsén
Develoment and integration of this dataset into EMD services was done through the GASP project which is co-funded by the EUDP and the Danish Energy Agency
External Links & References
GASP Project Home-Page at DTU - here
A peer-reviewed paper is being prepared and will be referenced here as the main reference for the GASP methods and technologies